---
Memory is divided into two main types:
• Explicit or declarative memory: involves the storage of information that is recalled consciously. This type of memory can be further subdivided into episodic memory (our memory of facts and events, past personal experiences in the context of both time and space) and semantic memory (knowledge about the meaning of words and objects, as well as general knowledge).
• Implicit or procedural memory: refers to certain actions or a sequence of actions that have been learned, most of which are automatically retrieved without any conscious thought (procedural knowledge is often difficult to verbalize).
"Memory is the diary we all carry about with us" (Oscar Wilde)
Why is memory important?
Memory is the storage of information and personal experiences. Thanks to it we can recall with whom we were yesterday, where have we been on holiday, conversations we have had in the past, our academic knowledge, professional experience, etc.
Thanks to memory we are who we are, we learn and change according to the relationships we have and the needs of our environment.
Disorders like Alzheimer's–in which memory fades away gradually–therefore destroy little by little the essence of the person.
NeuronUP activities for the rehabilitation of memory
At NeuronUP, we have different activities to improve memory, for example, for disorders like Alzheimer's. For episodic memory, one activity is "Animal Pairs", which consists of finding the matching pairs among the face-down cards. The person flips a pair of cards and if they do not match, turns them face down and tries again. To improve semantic memory, there is a task involving matching items to their appropriate category. This semantic memory activity is widely used by our clients for people with Alzheimer's disease.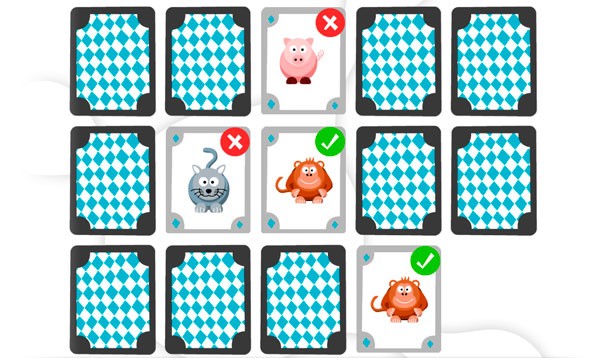 Read our articles about memory