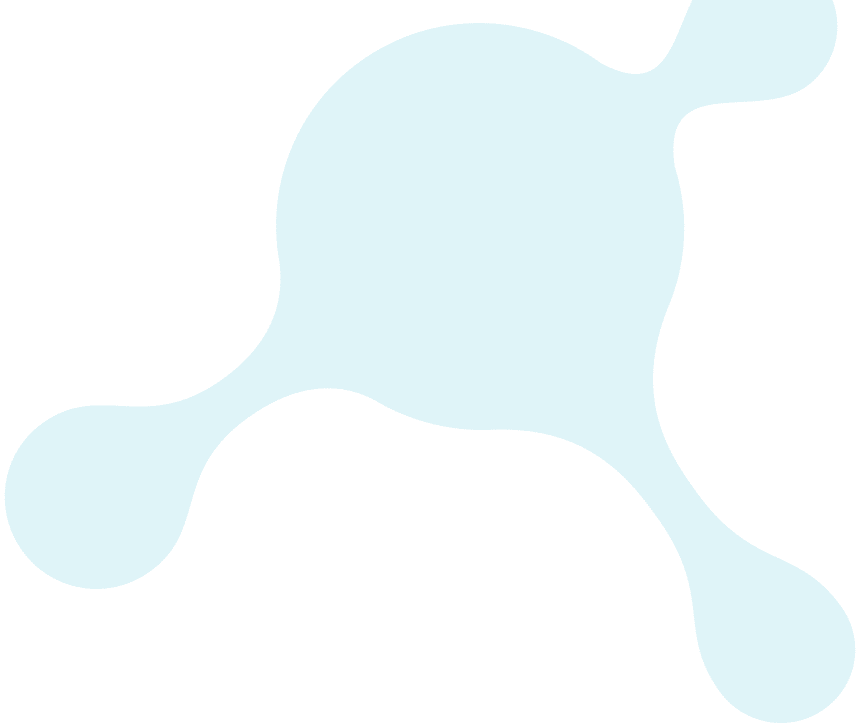 Use Cases
Normal Aging
Strengthen functional autonomy in elderly patients and improve their quality of life with activities that enhance cognitive stimulation at this stage.
Improvement areas
Some activities for
people with normal aging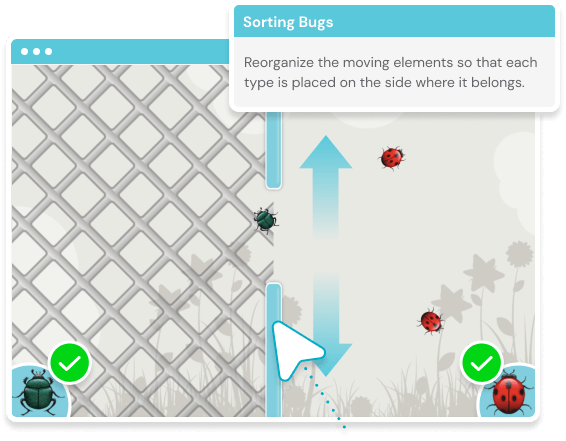 Sorting
Bugs
In this activity, the patient has to organize moving insects, placing them on their corresponding side. In this way, planning capacity, selective and sustained attention, hemineglect and processing speed are stimulated.
The game is organized in stages.
The patient advances or moves back in levels depending on his successes and mistakes.
Color
Lottery
Game aimed at improving episodic and working memory, in which the patient must memorize the color of the balls that go into the lottery machine and then point out which one has come out.
Game divided into stages.
The patient advances or moves back in levels depending on his successes and errors.
In the higher levels, the patient must memorize the color of other details of the image, such as the background or the strips of the balls.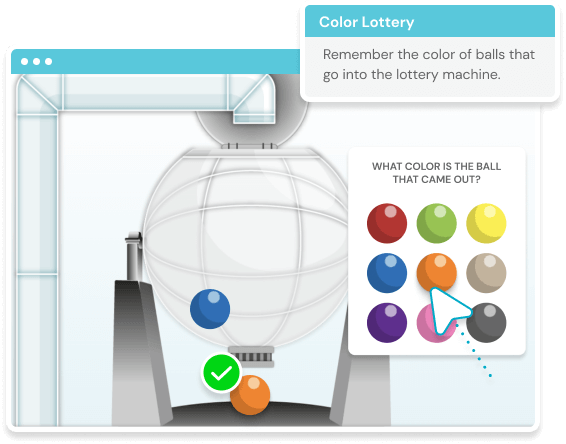 Word
Association
This worksheet works on reasoning skills by asking the patient to match words that are related to each other.
Five levels of difficulty.
Available in digital or paper format.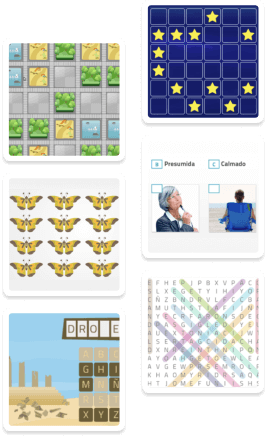 Discover 10,000 more exercises on our platform
Support your intervention with data
Track each patient on a daily basis
Access evolution graphs that are updated at the end of each exercise and evaluate the evolution of your patients for a specific activity or at a global level, from the beginning of their treatment to date.
On what basis
do we develop our exercises?
We identify the constructs, operations and functions (Burgess et al., 2006) involved in human activity, in order to create exercises capable of being calibrated during the rehabilitation process.
Burgess, P. W., Alderman, N., Forbes, C., Costello, A., M-A.coates, L., Dawson, D. R., … Channon, S. (2006). The case for the development and use of measures of executive function in experimental and clinical neuropsychology.Journal of the International Neuropsychological Society, 12(02), 194- 209.
The aim is to create motivational and customizable ecological contents that support the neuropsychological stimulation and rehabilitation processes (Wilson, 1987; 1989).
Wilson, B. (1987). Single-Case Experimental Designs in Neuropsychological Rehabilitation. Journal of Clinical and Experimental Neuropsychology, 9(5), 527-544. doi:10.1080/01688638708410767
Related studies
Healthy Aging in a Non-Impaired Population
Kueider, A. M., Parisi, J. M., Gross, A. L., & Rebok, G. W. (2012). Computerized Cognitive Training with Older Adults: A Systematic Review. PLoS ONE, 7(7). doi:10.1371/journal.pone.0040588
Flnkel, S. I., & Yesavage, J. A. (1989). Learning mnemonics: A preliminary evaluation of a computer-aided instruction package for the elderly. Experimental Aging Research, 15(4), 199-201. doi:10.1080/03610738908259776
What our clients say about us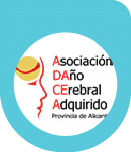 Paula Rodríguez,
neuropsychologist
I have been using NeuronUP for more than two years at the brain injury association and the patients are very happy to work with the platform's activities."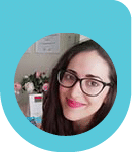 Gloria Cano,
neuropsychologist
I think it is a platform that every psychologist and neuropsychologist should have, as it provides you with the necessary material to work on cognitive stimulation in a comfortable and easy way, in person and from home".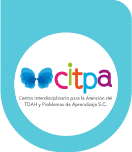 Rocío Mendoza,
neuropsychologist
With NeuronUP, the monitoring of children's progress is more objective and demonstrable to parents."
Learn more about
NeuronUP
Try it for free
The platform that 3,500+ professionals use on a daily basis